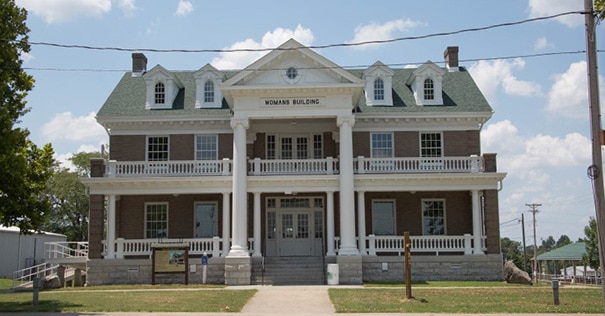 Built in 1910, the Womans Building is one of the smaller venues on the Fairgrounds. The first floor of this stately building is available for rent. The Woman's Building is also home to the Missouri State Fair Museum and Gift Shop. For more information about the Museum, please contact the Missouri State Fair Foundation.
Common Uses Include:
Facility Features
Rental Fee: $330.00
Facility Description: Brick exhibit banquet rooms
Square Footage: 2,168 sq. ft.
Restroom Available: Yes
A/C Available: Yes
Heat Available: No
Building Availability: April 15 through October 15
Seating Capacity: 85
Floor Type: Luxury vinyl plank
Location Information
The Womans Building is located just north of the MO-Ag Theatre on the Missouri State Fairgrounds.
Plan Your Event
Interested in hosting an event in Sedalia? View common Event Types hosted at the Fairgrounds every year to learn if it is the right venue for you!
Do you have an event planned and are looking for additional resources? We can provide recommendations for service partners, on-grounds services, FAQs and more!