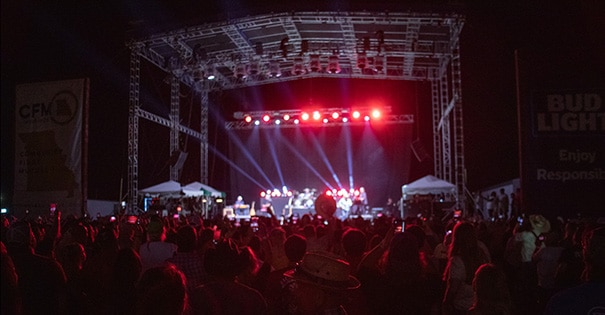 The Grandstand/Speedway is a live outdoor venue that features a 1/2 mile dirt track and permanent seats in the Grandstand.
Common Uses Include:
Facility Features
Rental Fee: $2,310.00 + 2% net admission
Facility Description: Grandstand & 1/2 mile dirt track
Restroom Available: Yes – seasonal
Offices: 1 – with ticket windows
Storage room: Yes
Seating Capacity: 8,800 bleacher seating
Concession Stand: Yes, must work with contracted concessionaire
Stage: Yes
Floor Type: Asphalt/paved; dirt 1/2-mile track
Other: Elevator
Location Information
The Grandstand is located on the east side of the Missouri State Fairgrounds.
Plan Your Event
Interested in hosting an event in Sedalia? View common Event Types hosted at the Fairgrounds every year to learn if it is the right venue for you!
Do you have an event planned and are looking for additional resources? We can provide recommendations for service partners, on-grounds services, FAQs and more!