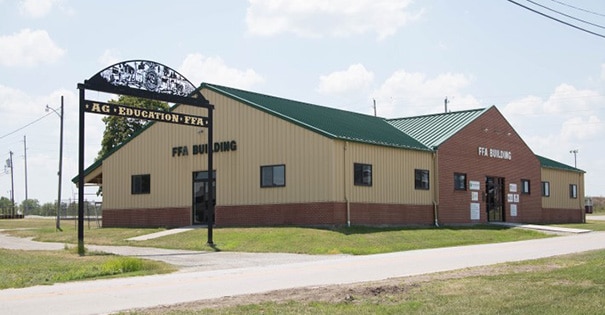 The FFA Building is a smaller, modern venue built in 2002. If hosting a smaller event of 150 people or less, this venue is a perfect match. The FFA Building is small but has an open floor plan, making it ideal for many different event types.
Common Uses Include:
Facility Features
Rental Fee: $550.00
Facility Description: Open-span exhibit hall
Square Footage: 5,712sq. ft.
Length: 56 ft.
Width: 102 ft.
Restroom Available: Yes
A/C Available: Yes
Heat Available: Yes
Overhead Doors: 10 ft. x 8 ft.
Seating Capacity: 150
Floor Type: Concrete
Location Information
The FFA Building is located on the southwest end of the Missouri State Fairgrounds.
Plan Your Event
Interested in hosting an event in Sedalia? View common Event Types hosted at the Fairgrounds every year to learn if it is the right venue for you!
Do you have an event planned and are looking for additional resources? We can provide recommendations for service partners, on-grounds services, FAQs and more!