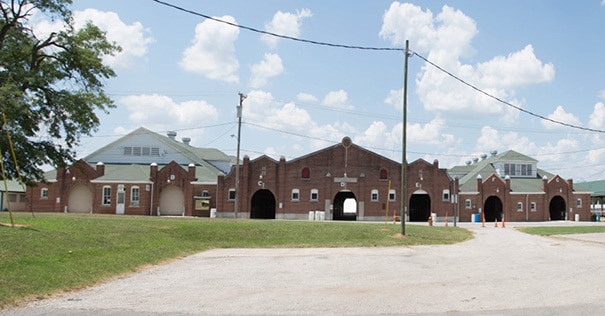 The Horse Barns are brick buildings used commonly for horse shoes. The alleyways are asphalt with compared lime stalls and rubber mats. They are conveniently located next to the Donnelly Arena and Coliseum, making it convenient to stall your horse while waiting for your event. The are approximately 400 dirt floor stalls.
Common Uses Include:
Facility Features
Rental Fee:
$15.00 (1st day)
$14.00 (2nd day)
$13.00 (3rd day)
Facility Description: Brick barns/pole barn
Offices: Yes
Overhead Doors: Yes
Horse Stalls: Approximately 400
Floor Type: Dirt
Limited water available October 31 through April 1. Full water access is typically available April 1 through October 31 but is based on forecasted temperatures. Full water access turn on dates could be delayed and turn off dates could be moved forward if cold weather is probable.
Location Information
The Horse Barns are located south of the Donnelly Arena.
Plan Your Event
Interested in hosting an event in Sedalia? View common Event Types hosted at the Fairgrounds every year to learn if it is the right venue for you!
Do you have an event planned and are looking for additional resources? We can provide recommendations for service partners, on-grounds services, FAQs and more!