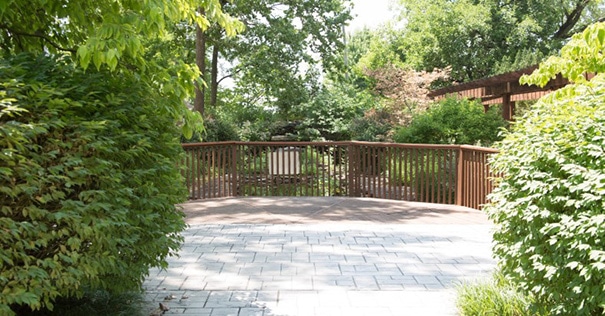 Looking for an outdoor space for your ceremony? Then the Highway Gardens is the place for you!
This hidden gem is the perfect location for an intimate celebration. Surrounded by greenery during the summer months, it provides a beautiful photo backdrop.
Common Uses Include:
Facility Features
Rental Fee: $150.00/day
Facility Description: Outdoor space
Electrical: None
Restroom Availability: None
Additional Information
Rental only includes the outside garden space. It does not include the rental of the MoDOT Building located within the Highway Gardens. The MoDOT Building is unavailable for rental.
Plants and flowers are planted to be at their peak for the annual State Fair in August. Initial planting typically begins in June.
Customer is responsible for setting up any tables and chairs. Customer is also responsible for returning tables and chairs to location where they were found.
Due to the sprinkler system, no vehicles can be driven into the Highway Gardens.
Picnic tables are not to be moved from their current location.
We request that real flower petals be used for the petal toss. If silk petals are used, customer is responsible for picking up all petals. Failure to do so may result in additional damage charges.
The closest restrooms available for use are located to the north behind the Beef House from April 1 through October 31. These restrooms may not be available depending on the weather forecast. If freezing/cold weather is forecasted, the restrooms will be closed.
Please pick up any trash and put in trash barrels following your event.
No digging, staking, planting, or breaking of ground is allowed.
No swimming pools or sprinklers allowed.
Location Information
The Highway Gardens are located just west of the 4-H Building and south of the Missouri Department of Conservation Building.
Plan Your Event
Interested in hosting an event in Sedalia? View common Event Types hosted at the Fairgrounds every year to learn if it is the right venue for you!
Do you have an event planned and are looking for additional resources? We can provide recommendations for service partners, on-grounds services, FAQs and more!