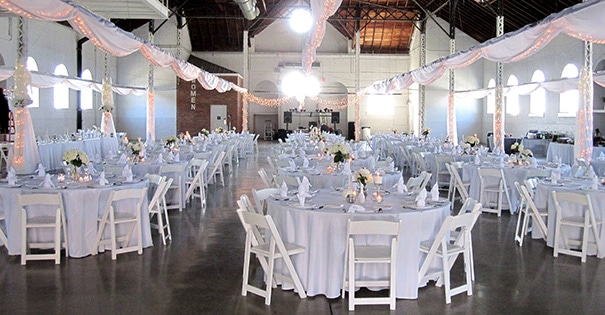 Built in 1903, the Commercial Building is a historic and spacious venue. It has an open, barn-type style for those seeking a rustic feel. There are many different ways to decorate this building to make it your own.
Common Uses Include:
Facility Features
Rental Fee: $580.00 per day
Facility Description: Historic brick exhibit hall
Square Footage: 9,375 sq. ft.
Length: 125 ft.
Width: 75 ft.
Restroom Available: Yes – seasonal
A/C Available: Yes
Heat Available: No
Availability: April – October weather permitting
Storage Room: Yes
Overhead doors: 1 (12 x 9 ½)
Seating Capacity: 625
Floor Type: Concrete
Location Information
The Commercial Building is located on a corner just west of the Grandstands. There is plenty of room to accommodate for your guests to park.
Plan Your Event
Interested in hosting an event in Sedalia? View common Event Types hosted at the Fairgrounds every year to learn if it is the right venue for you!
Do you have an event planned and are looking for additional resources? We can provide recommendations for service partners, on-grounds services, FAQs and more!