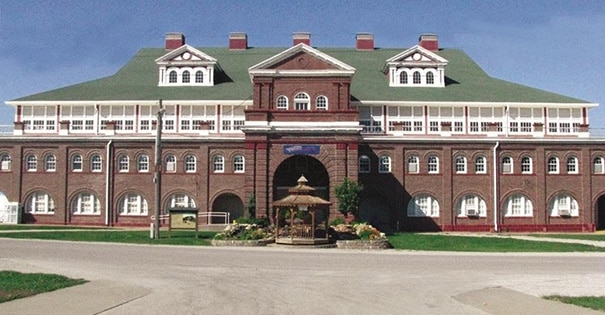 Built in 1906, the Coliseum is a historic centerpiece of the Missouri State Fairgrounds.
The 180 ft. x 235 ft. three-story Coliseum amplifies several architectural motifs found in the brick animal barns nearby. This area features a 174 ft. x 118 ft. Dirt Arena Floor with approximately 2,300 seats.
Common Uses Include:
Facility Features
Rental Fee: $495.00 per day vs. 10% net admission
Facility Description: Historic, brick, covered arena
Square Footage: 20,532 sq. ft.
Length: 174 ft.
Width: 118 ft.
Restroom Available
A/C Available: No – overhead fans
Offices: 1
Overhead Doors: Yes
Seating Capacity: Approximately 2,300 seats
Judges Stand: Yes, for a fee
Floor Type: Dirt
Sound System: Yes, 3rd party contractor, for a fee
Location Information
The Coliseum is located just south of the MFA Youth Arena.
Plan Your Event
Interested in hosting an event in Sedalia? View common Event Types hosted at the Fairgrounds every year to learn if it is the right venue for you!
Do you have an event planned and are looking for additional resources? We can provide recommendations for service partners, on-grounds services, FAQs and more!