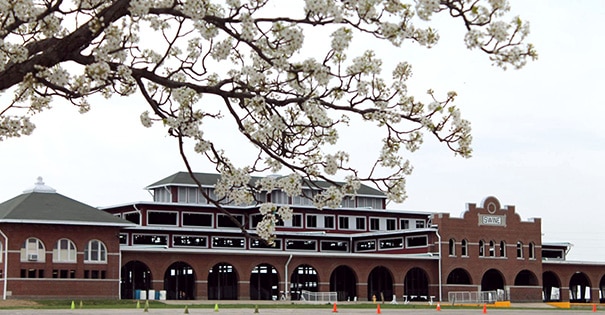 Built in 1922, the Swine Pavilion is a large brick building that features open-air concrete floors. It is used for ram shows, dog shows, and goat shows during the months of late April through October. It has over 750 pens on concrete floors.
Common Uses Include:
Facility Features
Rental Fee:
1 Day Barn Rental + $8 Per Pen $500.00
2 Day Barn Rental + $6 Per Pen $400.00
3 Day Barn Rental + 4 Per Pen $300.00
Pen Removal – $7 Per Pen
Facility Description: Open-air brick exhibit show building
Restroom Available: Yes
Building Availability: April through October weather permitting
Offices: 1
Storage Room: 1
Judges Stand: Yes
Pens: Approximately 750
Floor Type: Concrete
Showers/Wash Area: Yes – seasonal
Other: 2 show rings
Location Information
The Swine Pavilion is located on the west side of the Missouri State Fairgrounds.
Plan Your Event
Interested in hosting an event in Sedalia? View common Event Types hosted at the Fairgrounds every year to learn if it is the right venue for you!
Do you have an event planned and are looking for additional resources? We can provide recommendations for service partners, on-grounds services, FAQs and more!