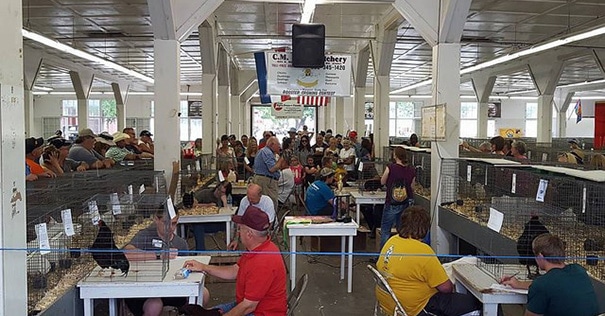 The Poultry & Rabbit Building features concrete floors with plenty of cages and space for a rabbit or poultry show.
Common Uses Include:
Facility Features
Rental Fee: $500.00
Facility Description: Brick exhibit building
Square Footage: 12,800 sq. ft.
Restroom Available: Yes
Offices: 1
Storage Room: Yes
Pens: Yes
Floor Type: Concrete
Other: Display Case
No water is available from November through March. Full water access is typically available April 1 through October 31 but is based on forecasted temperatures. Full water access turn on dates could be delayed and turn off dates could be moved forward if cold weather is probable.
Location Information
The Rabbit & Poultry Building is situated on the south side of the Missouri State Fair Grandstands.
Plan Your Event
Interested in hosting an event in Sedalia? View common Event Types hosted at the Fairgrounds every year to learn if it is the right venue for you!
Do you have an event planned and are looking for additional resources? We can provide recommendations for service partners, on-grounds services, FAQs and more!