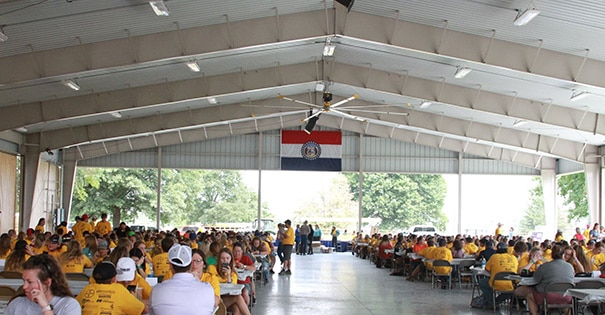 This 20,000-square-foot open-air pavilion was constructed in 2020 with funding from the state legislature and in partnership with Nucor Steel of Sedalia who provided the steel structure for the pavilion. The Nucor Director's Pavilion is home to the Sedalia Area Farmer's Market from April to October.
Common Uses Include:
Facility Features
Rental Fee:
$330.00/day, no electricity
$440.00/day, with electricity
Facility Description: Open air pavilion with concrete floor. Standard rental includes lights and fans but no additional electricity.
Square Footage: 20,000 sq. ft.
Length: 200 ft.
Width: 100 ft.
Restroom Available: No
A/C Available: No
Heat Available: No
Seating Capacity: 1,000+
Floor Type: Concrete
Location Information
The Nucor Director's Pavilion is located on the far east side of the Fairgrounds, near the Centennial Gate along Highway 65.
Plan Your Event
Interested in hosting an event in Sedalia? View common Event Types hosted at the Fairgrounds every year to learn if it is the right venue for you!
Do you have an event planned and are looking for additional resources? We can provide recommendations for service partners, on-grounds services, FAQs and more!